Published on
20 Jul 2019
​LKCMedicine Class of 2019 celebrates pre-convocation with a graduation dinner
The excitement of the Class of 2019 heated up the foyer of the Orchard Hotel Ballroom as the former schoolmates, who have not seen much of one another since starting work on their Postgraduate Year 1 at various hospitals in Singapore, started catching up on everything that has been going on in their lives. The graduands are joined on this happy occasion by their parents and loved ones, as well as the School, Nanyang Technological University (NTU) and National Healthcare Group's many well-wishers.
Upon the arrival of the Guest-of-Honour NTU Board of Trustees Member and LKCMedicine Governing Board Chairman Mr Lim Chuan Poh, and spouse, guests took their seats in the Ballroom. The evening's programme opened with a performance by LKCMedicine MedSoc Trio with Class of 2020 students Ng Wei Ron on the piano and Jonathan Koo on the cello, and Class of 2022 student Gwyneth Joy Lim on the harp. They played Altale by Sakuzyo and the first movement of String Quartet No. 5 in A major by Beethoven as arranged by Wei Ron, to thunderous applause.
As the applause faded, Mr Lim addressed the over 200 guests tonight by first congratulating the 75 graduands and their families and loved ones for reaching a major milestone. "We, at LKCMedicine, couldn't be more proud of what you have achieved," he said. "Every one of you have made history in your own way in realising your dream to become a doctor."
Lightly touching on the beginnings of LKCMedicine as a young medical school, Mr Lim said there is much to be thankful for and many to thank, from the Lee Foundation's $150 million in early 2011, to E I Parrish Trust, Toh Kian Chui Foundation, and the latest, the Estate of Irene Tan Liang Kheng. More donors are coming in.
"Tonight, we celebrate three new donors: Professors Chee Yam Cheng, Low Cheng Hock and Chew Chin Hin. They have contributed meaningfully towards the establishment of three new Gold medals in their names," said Mr Lim.
His message to the graduands was one that many would take to their heart, "Each and every one of you will go on to define what LKCMedicine stands for. Your ongoing work will become our heritage, and you want this heritage to be one that you, the School, NTU, Imperial, NHG and many others can be proud of. So go and make us proud."
NTU President Subra Suresh's speech followed, also exhorting the Class of 2019 to get out there and make a difference as LKCMedicine graduands and doctors, "I have the privilege of hearing from the community how our pioneer graduates are doing. They're getting very high marks for the the education they've received, for the talent they bring to the healthcare system in Singapore and for the passion with which they pursue their profession. I am convinced that the Class of 2019 would take NTU to even greater heights."
Continuing with an important message, Prof Suresh said, "There is a need for humanity in all fields, but especially in healthcare. As technology takes us to new heights, we don't want to lose the human touch in our professions." Citing NTU's growing reputation in research, he encouraged everyone to return to NTU and work with the leading minds in other fields to improve their professional skills.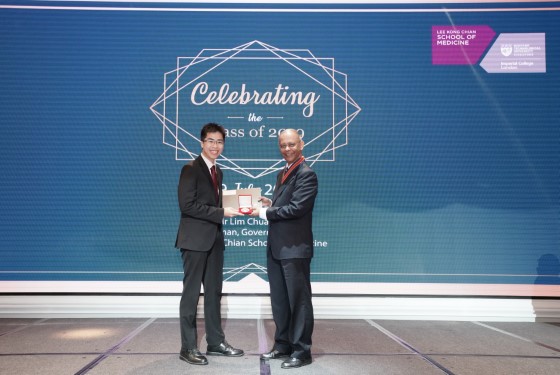 As the graduation dinner began, the presentation of awards commenced with the Academy of Medicine, Singapore Medal presented by Master of Academy of Medicine Singapore, Dr S R E Sayampanathan, to Dr Lee Cheok Hon. This award recognises a student of exemplary character who demonstrates independence, initiative and resilience.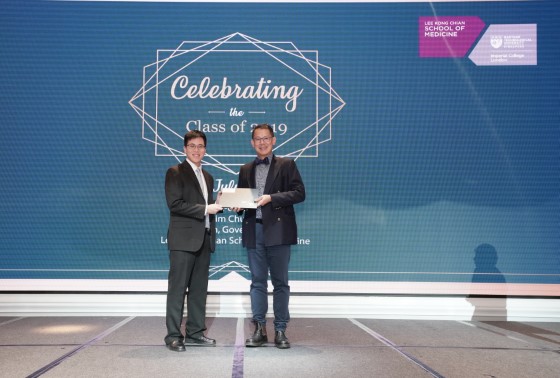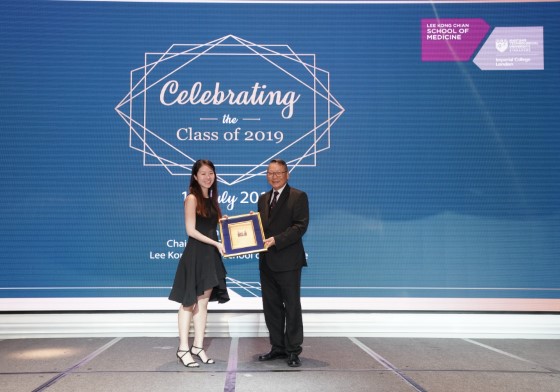 The next award was the College of Family Physicians Prize, presented by President of College of Family Physicians Assistant Professor Tan Tze Lee to Dr Koh Jin Kiat for his outstanding essay on family medicine.
The last award of the evening saw a framed congratulatory letter being presented by Mr Anthony Teo for the Anthony SC Teo-Gordon Johnson Gold Medal to Dr Wee Lin. Dr Wee received the accolade for her outstanding results during the Year 3 to 5 Objective Structured Clinical Examinations, and she will receive the medal during the School's Convocation Ceremony at NTU on Saturday, 27 July.
As dinner continued to be served, LKCMedicine MedLee took to the stage with six members — Chim Jia Xin, Hannah Abbott, Reuben Ho, Wang Kaiying, Lai Jia Jing, Joshua Tay — to wow the audience with their rendition of Walk the Moon's "Shut Up and Dance", Journey's "Anyway You Want It" and Ariana Grande's "They Don't Know".
After the performance, inaugural president of LKCMedicine Alumni Association Dr Leon Tan also congratulated the Class of 2019 graduands and welcomed them formally to the Association. "The Class of 2019 will always be special to my cohort as you are our inaugural juniors," he said. "Let's always remember that we are now representatives of our School in our workplaces." Stressing the importance of always being in touch with LKCMedicine, Dr Tan said the alumni mentorship programme that he started will continue, as well as new initiatives and ideas to reach out to the student body.
The closing speech was given by LKCMedicine Dean Professor James Best, who also offered his heartiest congratulations to the graduands present. "It feels just like yesterday when I congratulated all of you at the 2014 White Coat Ceremony for getting into medical school – we started at LKCMedicine in the same year! Tonight is also a five-year celebration for me; I'm delighted to have shared your journey!"
Reminding graduands the importance of keeping in touch, Prof Best said, "At our Novena campus, we have that wonderful heritage building where we have that Alumni Lounge where you're always welcome. That is one way that you can keep in touch with each other and watch out for each other. I still count a number of my colleagues from the Class of 1972 University of Melbourne Medical School as amongst my closest friends. And of course, just over 40 years ago, I married one of my classmates. I recommend that as a very good way to keep in touch." Laughter erupted across the ballroom at that.
Out of all of LKCMedicine's values, it is compassion that defines a doctor who practises with his or her heart, says Prof Best. "The synonym that I felt was most apt is 'kindheartedness'. Being kindhearted to our patients by being understanding and caring is the essence of being a good doctor. We have to think more broadly than that. We have to be understanding and caring of our colleagues in medicine and the broader healthcare system, especially when we see them having a difficult time. We must be understanding and caring of ourselves."
Quoting Dalai Lama who said that to be happy, we must practise compassion, Prof Best wished the graduands happiness in their work and lives.
At the conclusion of Prof Best's speech, NTU and School leadership, as well as Governing Board members as well as Mr Lim, took a commemorative photo with the Class of 2019. After an enjoyable time with their batchmates, the Class of 2019 looks forward to the Convocation Ceremony next Saturday, 27 July, at the Nanyang Auditorium where they will receive their MBBS degree, awarded jointly by NTU and Imperial College London.