ADM PORTFOLIO REVIEW FOR POLYTECHNIC 2018 / For Admissions to Bachelor of Fine Art Courses ​10 February 2018, Saturday from 2pm to 5pm
Nov 8, 2020, 15:07 PM
Title :
ADM PORTFOLIO REVIEW FOR POLYTECHNIC 2018 / For Admissions to Bachelor of Fine Art Courses ​10 February 2018, Saturday from 2pm to 5pm
Standfirst / Sub Head :
Video link :
Canonical url :
Published date :
Jan 29, 2019, 00:00 AM
CALLING ALL BUDDING DESIGNERS, ARTISTS, ANIMATORS, FILMMAKERS, PHOTOGRAPHERS AND STORYTELLERS!
For Admissions to Bachelor of Fine Arts Courses
Saturday, 10 February 2018
2pm to 5pm

ADM can be the next step on your creative journey. This is an opportunity to visit our building, experience the studios and facilities, meet with current students, and most importantly let our lecturers and professors take a look at your portfolio and give constructive advice on your progress and let you know what can be improved to help your application.

The event will cover:

One-to-one Portfolio Reviews and advice from our faculty
Tour of ADM and the facilities
Meet and talk with our current students and faculty
​
ADMISSIONS

For any questions about entry requirements, visas or admissions please contact ADM Undergraduate Programme Admissions: adminfo@ntu.edu.sg, (+65) 6790 4828

Other inquiries to admevents@ntu.edu.sg, (+65) 6513 8679

RSVP

The Portfolio Review takes place at Nanyang Technological University, School of Art, Design & Media, 81 Nanyang Drive, Singapore 637458.

It's essential that you RSVP by 5 February 2018. After which we'll contact you to confirm attendance.

Note: Reviews are granted on a first come, first served basis and RSVP is required.
This event is for current Polytechnic Students. There will be another event in March for JC students.

Please RSVP at https://wis.ntu.edu.sg/pls/webexe/REGISTER_NTU.REGISTER?EVENT_ID=OA18013011003954​​

​​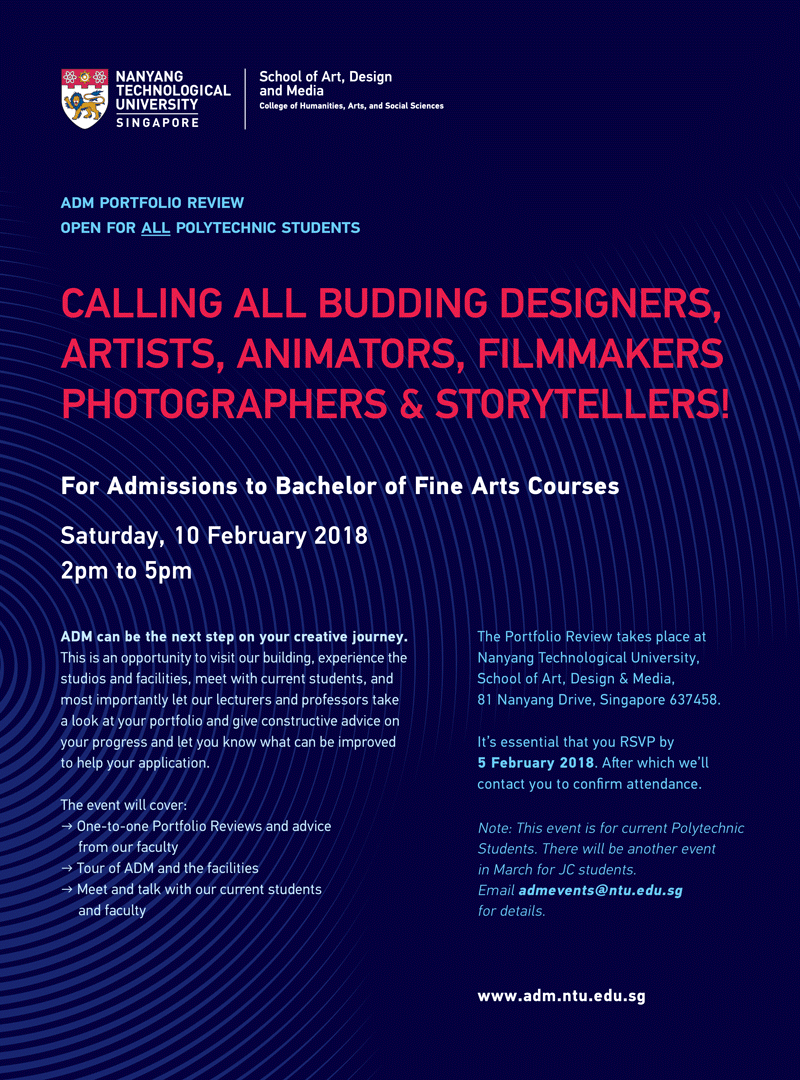 ​​