Published on
27 Aug 2019
NTU Researchers won 3rd place in TECO Green Tech International Contest​
​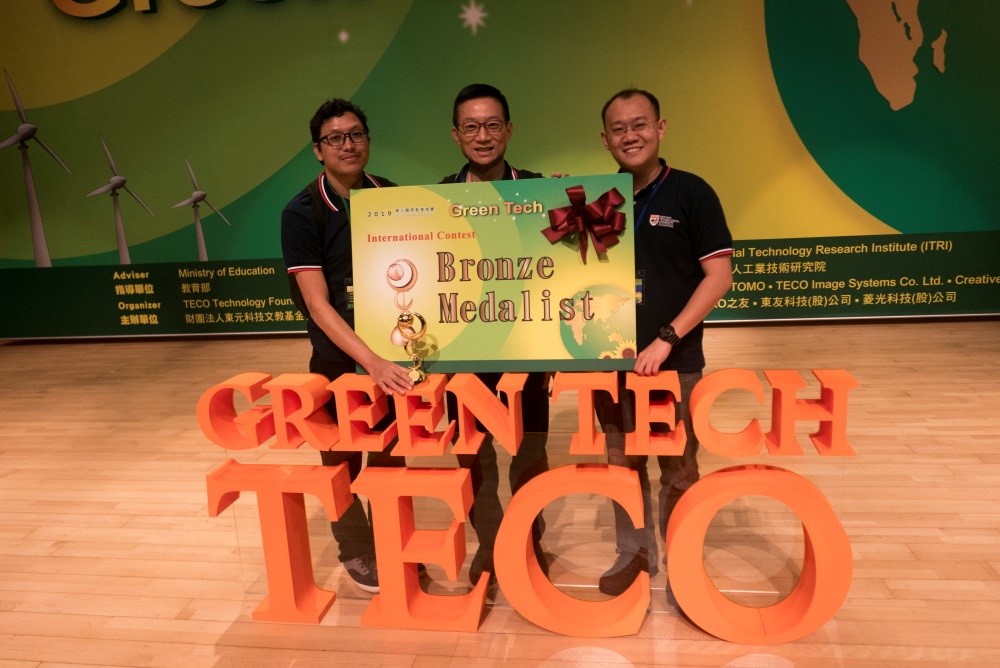 From left to right : Mr Pradeep Shakya, PhD Research Scholar with Advisors Professor Ooi Kim Tiow and Dr Aw Kuan Thai

Rotary Compressors are widely used in the world for heating, ventilation, air-conditioning and many other applications. The global demand for compressors is extremely high; approximately 200 million pieces were produced in 2018.
PhD Research Scholar, Mr Pradeep Shakya believed that by reducing the size of a standard compressor, there is a potential to save up billions of tons of metal annually. The innovative design of the Coupled Vane Compressor allows the size of the rotor to be smaller which further scales down the overall size of the compressor. Despite utilizing less material, the machine is still able to operate at the same working capacity.
Professor Ooi Kim Tiow, advisor of this research shared that "The coupled vane compressor utilised the same working principle as rotary vane machines. The only difference is that only two vanes are used and rather than restricting the vanes' positions to the radial space around the motor. Therefore, the vanes are able to slide freely through the entire diametric space of the rotor instead."

With the new way of saving significant amount of materials, the team recently won the Bronze Award in the TECO Green Tech International Contest held in Taiwan.
This new design of the compressor will greatly benefited the manufacturers because not only does it cost less to produce, it also saves production cost and time, as well as transportation cost.
There are total of 117 participating teams from over 10 countries competing over a prize pool of 33,000 USD. The Green Tech International Contest gave students from all over the world the opportunity to showcase their creativities and innovations on Green Technologies.