<! ----- World Juggling Day 2007 ----- >
The Singapore World Juggling Day 2007
Written by: Yvonne Tan
Photos by: Loh Koah Fong


---
Click on photos for larger version
Yes, there is a World Juggling Day. It is held on every 3rd saturday of June, and celebrated by jugglers all over the world.
The singapore world juggling days have been periodically big events.before i became a juggler i heard there was once a big celebration sponsored by dunno which shopping centre.
After i came in, there have been 2 or 3 big celebrations held at clarke quay and downtown east, almost all organized by Chi minh.
Unfortunately during the years when he had no time to organize one, WJD becomes a non-event. (There were some quieter cosy celebrations held at botanical gardens and MacRitchie.)
This year happened to be one where it doesn't seem like anything was gonna happen.
i didn't think it was gonna be that hard to organize a simple celebration, and i really wanted to have an occasion where we can all watch and appreciate each other's skills, so in another itchy backside moment, i stuck my head in.
-------------------------------
This year's WJD was held at the Esplanade underpass, the venue of our usual practice.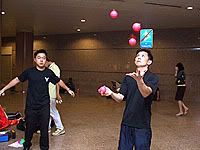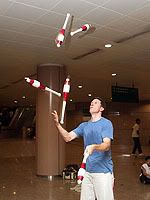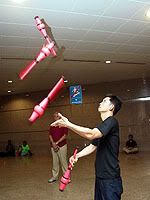 The original intention was to hold it at Clarke Quay, but after having a meeting with the Clarke Quay personnel, it dawned on me that when you ask for (and are given) a space, you live by the rules and it will no longer be a simple celebration.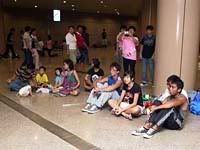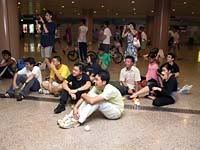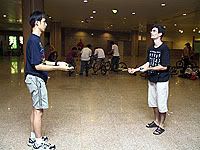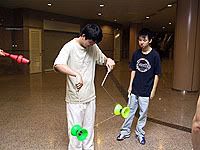 So i settled for a public space.where we could enjoy the event and where the passers-by could watch too if they wanted.
The only real fear was that the police would come by and clear everyone away,as they have done before on the grounds of illegal assembly. (we must have looked meancing with our colorful clubs and balls. a hippy riot maybe)
The official rule was that no one was to use the space. Most of the time the "authorities" (whoever they are) are tolerant but the tolerance level seems to change. There was a period of time they chased everyone away, and then it became only the stunt cyclists that they targetted, and presently they seem to chase only the skateboarders.
so the rules are quite hazy and you don't really know when you'll get chased away.
The backup plan was to move outdoors if that happened, but since it was raining, the backup plan failed even before it was used.almost as if fate was teasing me, two policemen walked by an hour before the event was to begin.
They were eyeing us for a while with all the clubs flying around but to my huge relief didn't approach us. Still, chi min asked that i hold off putting up the "World juggling Day" poster until the police left.
-----------------------------
So the event begun and ended quite smoothly.
Robert the american expat and undisputedly the best in the country right now came by.the legendary "i'm so good i keep breaking my diabolo string" Willie also made a rare appearance.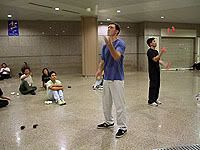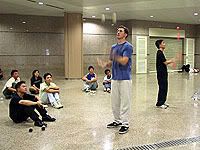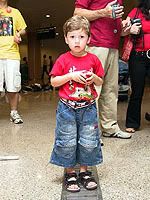 it was nice to meet and catch up with everyone again, both the new busy jugglers and the old "first generation" jugglers.
Hanzheng also invited some of his diabolists friends and the surprise of the day was the appearance of a duo of primary school kids and their coaches.
i didn't even know there was a diabolo ECA group in singapore.but there was, and they put up a splendid well choreographed routine.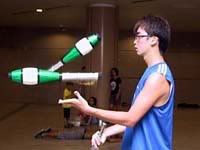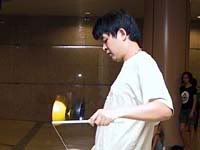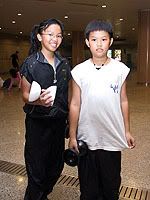 They were so well prepared that i was almost worried. and amongst ourselves we were discussing "they do know that this is not a serious competition right? My routine is rubbish one lor.".but they seemed to enjoy themselves in the end and we were also delighted to see young talents so it all turned out well.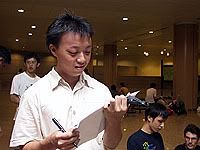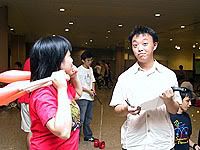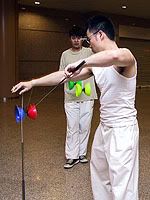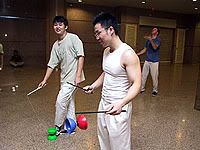 The other neat surprise for me was to see the Excalibur trick again, performed by Darryl, one of hanzheng's friends. what a great trick.
my routine was a bag of junk like my routines have always been. i have yet to see how it looks on video, that will give me a better idea of exactly how junk it was.
--------------------------------------
The other events all happened in a blur for me.to organize and to compete at the same time is hideous.
I thought i had little pockets of 10 min in between to warm up for events but there were getting pple together, answering questions, getting pple to time, explaining rules and before i know it i'm on (!) so grab my things and just go up to whack.
I was quite relieved when it was all over because it meant i could start juggling in peace! :)
So a bunch of us went for dinner and 4 of us went back to the esplanade to juggle again, all the way close to midnight.
it was quite cool because we played the radio (driving Di-hong nuts with my hokkein songs CD and other weird tracks), there weren't much pple, and it was an enjoyable peaceful session even though i was dead tired.
so juggle i did, all the way till midnight, making this the most juggled WJD i've ever had. From the moment i woke till the moment i slept, everything i did was juggling related.
Koah fong taped the entire event down and took some group pictures as well. Looking forward to viewing those.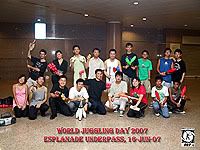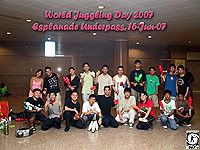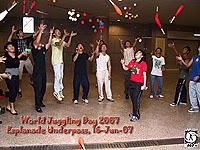 So till the next year, this is the chairman of the Singapore World Juggling Day Elite Parliamentary Committee 2007, signing off.
---
Competition results
WJD 2007 (Venue: Esplanade Underpass)
3 Ball Endurance (switching non repeatable patterns every 30 sec)
(Competitors: Yihong, Xinfang, Chi min, Sheng hau, Lin Jiexin, Edwin ong, Lam Yong Hin, Robert Vancko, Min Jiang)
1. Robert Vancko 3 min ++
2. Chi Min 3 min +
3. Xin Fang 2 min +
4 Ball Endurance
(Competitors: Di-hong, Yihong, Xinfang, Boon Teck, Koah Fong, chi min, sheng hau, Yvonne, terence ho, lin jiexin, Edwin ong, Robert Vancko
1. Robert Vancko 4min 55 sec
2. Chi min 4 min 42 sec
3. Yvonne 1 min 42 sec
5 Ball Endurance
(Competitors: Boon Teck, Koah Fong, Chi min, Sheng Hau, Yvonne, Robert)
1. Robert Vancko 3 min 08 sec
2. Sheng Hau 1 min 02 sec
3. Chi min 31.50 sec
4 Club endurance
(Competitors: chi min, Yvonne, Robert, Edwin Ong)
1. Robert Vancko 38sec (5 clubs – 18 sec)
2. Yvonne 21 sec
3. Chi Min 5 sec
4. Edwin 4.84 sec
Coolest Trick (no winners)
Di hong – typewriter (ball trick)
Koah Fong – can + ball trick
Chi min – body manipulation ball tricks
Sheng hau – ball cascade behind the head
Yvonne – mike's mess (club trick)
Hanzheng – diabolo combination trick
Darryl – Excalibur behind the back (diabolo trick)
Edwin & Lam Yong hin – duo juggling tricks
Routine Competition
(competitors: Min jiang, Chi min, Yvonne, Vincent Chen & Teo Chia –Wei, Darryl, HanZheng)
1. Vincent Chen & Teo Chia-Wei (13 votes)
2. Min Jiang (8 votes)
3. HanZheng (7 votes)


---
<! ----- Contact/ Update info ----- >

Koah Fong's Juggling Page | World Juggling Day 2007 | Write to me: kfloh@ntu.edu.sg Created: 21 Aug 2007 | Updated: 21 Aug 2007